Great Britain missed the chance to make the second round of EuroBasket for the first time as they slipped to an 87-68 defeat at the hands of Ukraine in their final game in Ljubljana.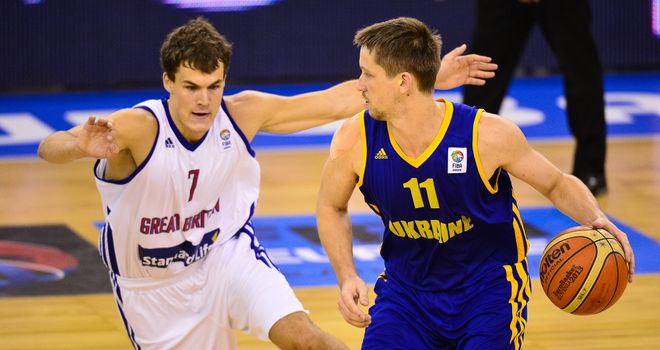 Great Britian missed out of the second round of EuroBasket after losing to Ukraine
Sunday's win over Germany had given Joe Prunty's men hope of advancing from Group A, but they were behind for almost the entire contest against Ukraine, slipping to a comprehensive defeat.
GB did at least manage to keep things close in the first quarter and with Kieron Achara sinking a three-pointer at the end of the first 10 minutes they trailed just 21-18.
But a 27-13 second for Ukraine in effect killed the game off and Britain never looked like getting themselves back into the game from there.
Balanced attack
Andrew Lawrence and Devon van Oostrum each had 12 points for GB to lead all scorers, while Kyryl Natyazhko and Ihor Zaytsev paced a balanced Ukraine attack with 11 points apiece.
The result meant that while Ukraine went into the second round, either Belgium or Israel were certain to finish ahead of GB and clinch the third and final qualifying spot from the six-team group.
The campaign was nevertheless a reasonable one for Britain's young team, who claimed two victories - over Israel and Germany - from their three games.
SOURCE -
SKYSPORT